Overview
A broad curriculum will bring pupils into contact with the elements of learning (knowledge, concepts, skills, and attitudes) and the areas of learning and experience (aesthetic/creative, human and social, linguistic and literary, mathematical, moral, physical, scientific, and technological).
A balanced curriculum will ensure that each area of learning and experience will be given appropriate attention in relation to the others and to the curriculum as a whole.
A coherent curriculum will be planned as a whole and will embrace the different areas of learning and experience, so that these do not appear as discrete and unconnected, but as contributing to overall progress and achievement.
A relevant curriculum will take account of the previous learning of pupils, their readiness for new experience, and relate to the daily lives of students and their community.
Rigor requires that we provide an appropriately challenging curriculum for all students, with close attention paid to the development of critical thinking and problem solving skills, and students' personal accountability for their work.
Differentiation involves matching tasks to pupils, balancing challenge with likelihood of success for each pupil across the ability range.  It implies a need for purposeful flexibility in teaching approaches, classroom organization, and assessment methods. Differentiated instruction also recognizes that there are several forms of intelligence that students have different learning styles, and may need alternative ways of demonstrating what they know, understand and can do.
Progression is achieved if the curriculum is organized so that pupils' skills, knowledge, and concepts are extended in a systemic way without unnecessary repetition or sharp changes in the levels of achievement expected of them.
Our work is guided by the five essential questions.
What do we want our students to know?

Are we using the best instructional practices?

How will we know when they have learned it?

What will we do if they haven't learned it?

What will we do if they already know it?

                                          -Based on the work of Rick DuFour
These questions link curriculum, instruction, and assessment into a continuous, looping cycle that focuses on strengthening student learning experiences. Across the District, we strive to build professional learning communities that think deeply about teaching and learning as they wrestle with these guiding questions. 
What we want our students to know?
Over the past several years we have invested in mapping the District's curriculum, providing transparency to parents, students, and community members of what we expect students to know. This time consuming but important work was led by our dedicated teaching staff. Working collaboratively, teachers outlined the essential content, concepts, and skills students are expected to master in each class. These curriculum maps serve as a powerful tool to help ensure alignment to standards across the District. Teachers continue to meet vertically to ensure curriculum is taught is a seamless progression.
Are we using the best instructional practices?
As an institution we continuously strive to implement research based instructional practices to enhance student learning. As a result, we have made long term investments in trained differentiation, literacy, math, and data coaches and specialists. These individuals model and improve best practices by working with faculty and staff to coordinate and implement more effective practices. Additionally, we have invested in Keys to Literacy support and other professional development programs to help ensure that effective instructional practices are used with fidelity throughout the District.
How will we know when they have learned it?
As has always been true, our outstanding faculty is the backbone of our school district. These highly trained professionals are the most essential resource in understanding student learning. To enhance their professional judgment, the District has focused on providing teachers with effective assessment tools such as Dibels(Dynamic Indicator of Basic Early Literacy Skills, iReady Reading Benchmark, DRA(Developmental Reading Assessment), and AIMSweb(curriculum based measurement for progress monitoring). These research based assessments are reviewed collaboratively at data meetings in order to determine the progress and needs of each student. Likewise, we have dedicated professional development time to developing standards-based report cards (K-6) to ensure we effectively communicate student progress. In grades 7-12 teachers report students' progress using traditional grade. Parents can view student's grades and assignments through an online portal called ASPEN. This portal can also be used as a communication tool between parents and teachers.
What will we do if they haven't learned it?
As an organization we are committed to meeting the needs of all learners through high quality student services. These services and accommodations are designed to ensure that all students have access to a high quality education. As a result, we are strongly committed to providing our English Language Learner, Section 504, Special Education, Title I, and 21st Century services whenever they are needed. In addition, the district continues to strengthen the RtI (Response to Intervention) process. This process includes providing students with researched based interventions and progresses monitoring to make sure all students are receiving the specific instruction they need to make progress.
What will we do if they already know it?
Recognizing that students learn at different paces, we are committed to providing a rich and diverse educational experience at Triton. In recent years we have invested in a range of instructional strategies and programming to ensure we meet the needs of all students. Whether it is offering additional AP(Advanced Placement) courses at the high school, providing an advanced paced Algebra I course at the Middle School or flexible grouping at the elementary schools, we have increased the opportunities for students to move beyond grade-level expectations.
Tools & Links

Atlas is an easy-to-use online mapping tool that allows teachers to capture and share what they are teaching.  Maps include essential questions, content/skills (benchmarks), standards, assessments, resources, vocabulary, and suggestions for RTI.  Teachers can attach documents, websites, and images.  Teachers can also browse maps within their school or district, as well as throughout the world.

Fundations


Fundations From the Wilson Website:Building a Foundation for Reading and Spelling Fundations makes learning to read fun while laying the groundwork for life-long literacy. It thoroughly teaches the foundational skills of the Common Core State Standards, and supports the reading standards, writing standards, and standards for language. Fundations' research-based approach and extensive program materials allow K-3 teachers to confidently present a carefully structured reading and spelling curriculum using engaging, multisensory techniques.It is implemented as a phonics and spelling supplement or the word study block to the core literacy program.

From the Key's Website: Literacy is the foundation for all learning. And all we do.
Literacy and learning go hand and hand. That is why all students must master the skills and strategies needed to comprehend content reading, build strong vocabularies, and write and communicate effectively.With professional development programs tailored for grades K-3 and grades 4-12, our instructional routines and practical training methods ensure that schools tangibly improve literacy levels while their students develop a lifelong capacity to learn.With an exclusive focus on literacy, we know what it takes to produce results and help teachers, schools and districts fulfill the promise for all students. Research based, effective, embedded across the curriculum and sustainable, our literacy professional development creates learning that lasts.

MA Dept. of Elementary and Secondary Education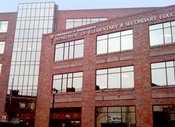 75 Pleasant Street
Malden, MA 02148-4906Voice:(781)338-3000
TTY:(800) 439 2370
Problem solving is at the heart of the Singapore Math®curriculum, with five key aspects of instruction supporting that goal, including attitude and metacognition. This program empowers students to develop critical-thinking skills, positive attitudes, and the confidence to persevere—setting the stage for achievement.
Real science means inquiry-based, hands-on investigation.
Science is Phenomenal. Now, Science Class Is Too!
Massachusetts Learning Standards
The Massachusetts Curriculum Frameworks provide teachers, students and families with clear and shared expectations for what all students should know and be able to do at the end of each year.
These guides to the Massachusetts learning standards help families understand what students are expected to know and be able to do by the end of each grade.